特制海绵内含无色天然蜡质和羊毛脂,涂擦任何颜色皮鞋及其它皮革制品立即光亮。擦拭时无需沾手,用后放回原盒,不留污渍干净利落,且省快捷,适合赶时间人士使用。本产品还适合于各类手袋、皮衣、家私、沙发等。
产品特点:本品采用皮革必须生物成份和皮革护理成份研制而成,
具有持久滋润加脂,快速渗透皮革的特点,
提升皮革的防水性能,效果优良,
不粘手,上光护理一次完成。
化妆品工艺,气味清香,保养后皮革不变形,不起皮,效果持久,使皮具更耐用
主要成份:皮革滋养液,抗水硅酮、香料等
使用方法:打开盖子,将海绵直接均匀涂开即可。
注意事项:请存放在小孩无法取到的地方,以免误用,不确定时请先在不明显处小面积试验,
不出现混色褪色问题,再进行整体涂饰,
本品不适用于绒面皮,磨砂面皮,泡面皮,油脂类面等特殊材质表面。
Quick Shine
(Cleans And Shines In One Easy Step)
Brush sponge side on article for a brilliant shine.
Specially formulated no buffing required.
DIRECTIONS: Before applying, remove all surface soil with damp cloth. Remove from case and rub sponge over entire shoe. Works best on shoes or items that have already been polished.
KEEP OUT OF REACH OF CHILDREN
DO NOT USE ON SUEDE OR NUBUCK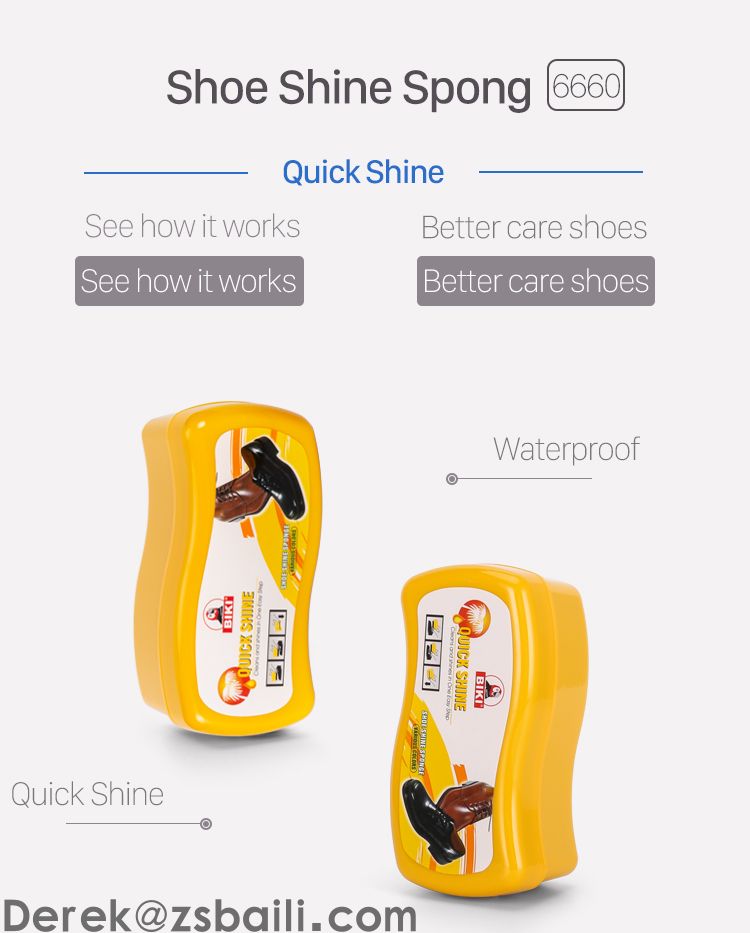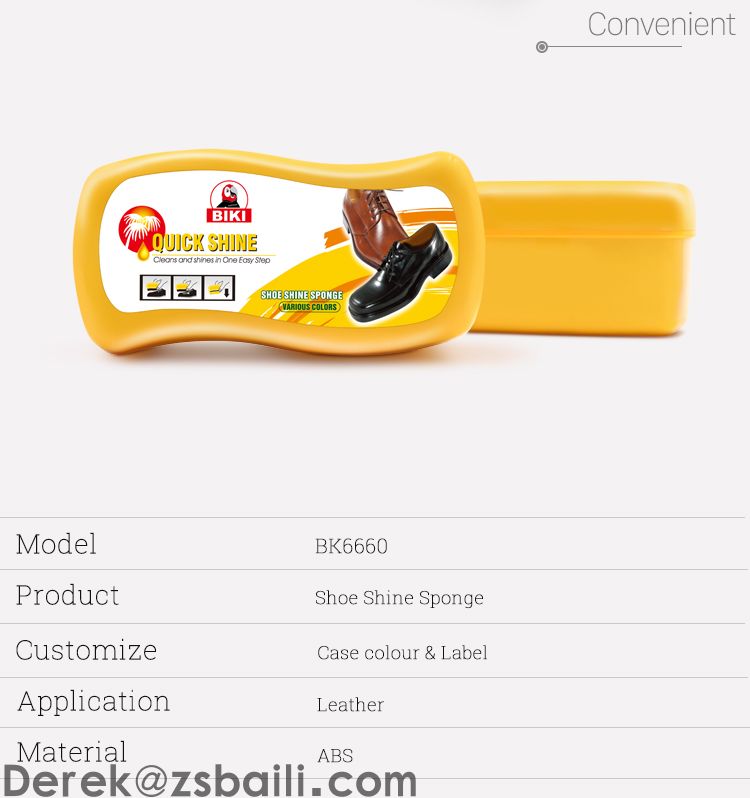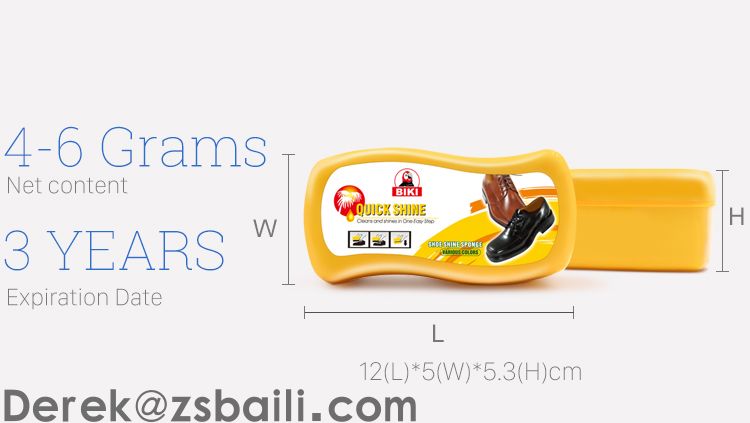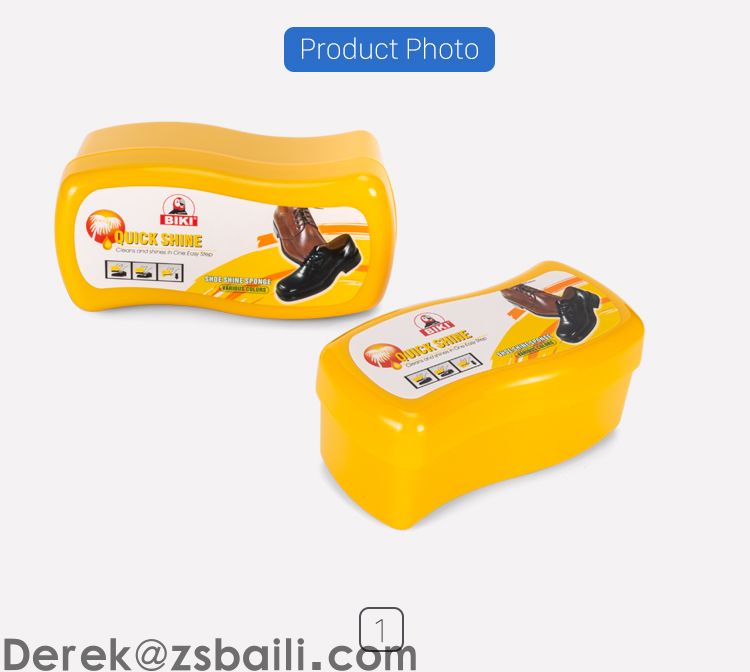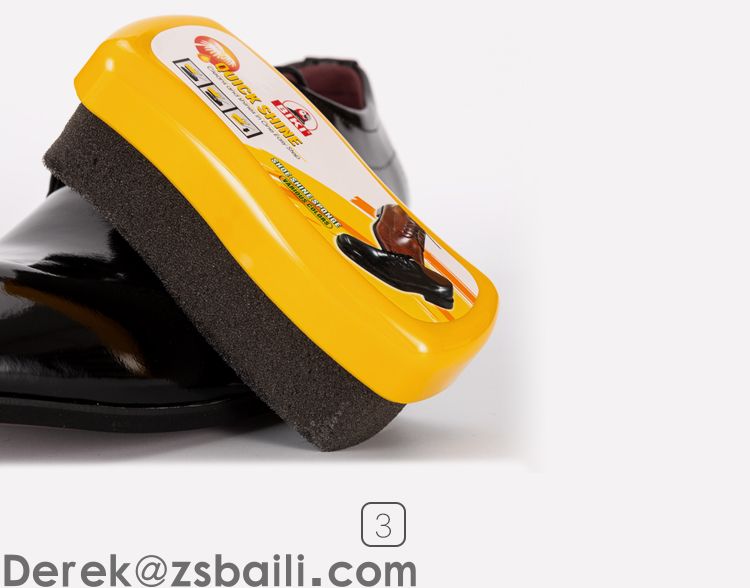 Shine Sponges
Nourishes, cleans and shines in one easy step. Ideal for smooth leathers and man-made products. Excellent for shoes, boots, handbags, and briefcases. An instant shine every time.
Directions:
Remove cover, and rub the sponge gently over the entire surface of leather or vinyl footwear or other surfaces. Be sure to place the cover back on the sponge after use to ensure the sponge does not dry out.
HS CODE:9603.9090.90
Instant Shoe Sponge
Labeling Instant Shoe Shine
Instant Shoe Shine Sponge for Leather Shoes
OEM Quick Shine
Leather Shoe Shine Sponge
2.product Parameter (specification) of Quick Shoe Shine Sponge BIKI 6660
Product:

Quick Shoe Shine Sponge BIKI 6660

Item number:

BK6660

Color of the Polish

Neutral(Colorless) or Black

Brand

BIKI, also can be in your brand, the Customized

Customize:

Label, Color of case, Inner package.

Country of Origin

China

Factory Address

Xiaolan Town, Zhongshan City, Guangdong Province, China (Near to Guangzhou)

Min Order Quantity

MOQ

3000pieces for the BIKI brand.

10000pieces for the customized label.

Features:

Quick Shine/Waterproof/Color Renovate

Application:

Leather Shoes, Bag, Sofa.

Material:

HDPE plastic bottle and PP plastic cap, with PU sponge

Net content:

6-7ML

Expiration Date:

3-5 YEARS

Master Carton.

QTY: 240 UNITS

N.W.: 13.0 KGS

G.W.: 13.8 KGS

MEAS:51X37X58 CM
TEMA, GHANA
Quick Shoe Shine Sponge BIKI 6660 is contained in a durable, easy-to-use convenience pack and is ideal for using in the home, office or when traveling.
Functions of BIKI Quick Shoe Shine Sponge
1) No mess, no fuss
2) Shines leather shoes, coats, hand-bags and all fine leather product.
BIKI shoe shine sponge is a unique self-shining sponge that provides luster.
You don't have to take your shoes off, Cleans And Shines In One Easy Step.
Specially formulated for oil-tanned leathers, the BIKI Instant Sponge replaces the natural oils in leather and helps prevent drying and cracking. The sponge is contained in a durable, easy-to-use convenience pack and is ideal for using in the home, office or when traveling. Not for use on suede or nubuck.
1.Product Introduction of the Quick Shoe Shine Sponge BIKI 6660
The main component of shoe shine sponge is silicone oil, which has the functions of quick brightness, waterproof and dust-proof.
Sponge contains natural wax and lanolin, wipe any color shoes and other leather products immediately bright.
shoe shine sponge has water-proof function, including water-repellent silicone and other ingredients. It can increase the water-proof function of leather, finish cleaning and polishing synchronously, and use conveniently and quickly.
2. Product feature of the Quick Shoe Shine Sponge BIKI 6660
1. Lightweight and soft upper
2. Environmental protection conforms to sponge material
3. Glaze immediately
4. Dust-proof and waterproof
3. Quick Shoe Shine Sponge BIKI 6660 can solve the following problems:
1. leather shoes are dull and dull.
2. Shoe polishing always dirty hands
3. The stain is difficult to remove.
4. Grey layer can not be rubbed off
5. Cortical aging
4. FAQ of the Quick Shoe Shine Sponge BIKI 6660:
Q1.What color of leather shoes can be suitable for neutral color?
All colors can be suitable for neutral colors.
Q2. How is the shipment and delivery
We can send the goods to Yiwu, Guangzhou or Shanghai for the container cabinet, if by full of the container, we can ship it from Zhongshan, Guangzhou, Shenzhen(Yantian) Port.
Q3. What is the expiry date(vality date)?
Most of the products are for 3 years and 4 years, but if the products are storage Proper, it can be 5 years.
About your company:
We are the factory, we can supply you the products, with the design and shipment.
We have been adhering to the "integrity and pragmatic, pioneering and innovative" corporate philosophy. With reliable product quality, richer, more high-quality products, to win the trust and recognition of many customers and consumers.
Our company is always engaged in developing new products, and our products have high competitive power due to top quality.
We will treat every customer with the utmost sincerity. We will be the best and professional manufacturer that you can trust in China
Our corporate philosophy:
Existence Philosophy: Product Innovation. System Innovation Development Philosophy: People-oriented, Act according to the capability
Employing Philosophy: Appointed according to the abilities,
Working Philosophy: Paying attention to the process, Paying attention to the results
Action Philosophy: Quick Response, Quick Action